DEVELOPMENT AND EXPERIMENTS TO OPTIMIZE FLIGHT AND GLIDING CHARACTERISTICS

DESCRIPTION OF PHOTOS DOCUMENTING THE EXPERIMENTS

GLIDE ANGLE:




Glide angels and maneuverabilty of round and square parachutes were tested with several models in direct comparison. For this purpose the chutes were attached to a long rope. Subsequently their individual ceiling and angle of climb were determined.


AIRFOILS:




Top right: Different airfoils where tested in direct comparison with two paraglides. Tests were performed above the steep glacier of Piz Corvatsch, only a few meters above the snow (mostly powder) - for security reasons. We chose thick airfoils for good slow flight qualities. After all the "pulling sail" was supposed to soar in light wind, take off with the pilot at a running speed of no more than 15-20 km/h and gently touch down again.


ASPECT RATIO: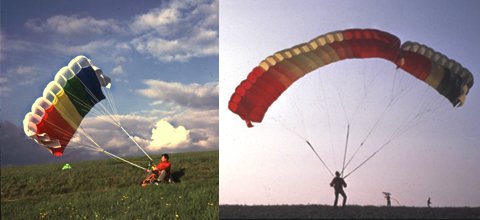 The bigger the aspect ratio, the smaller the drag induced by the tip vortex. For this purpose, paraglides with different aspect ratios were attached together with a zip (top right) and tested in flight above the glacier for a direct comparison. The picture in the top left shows the comparison of a 9-cell model (wing span 9m) with a 11-cell model (wingspan 11m). The 11-cell model had the best aspect ratio and was refined to the Skywing, winner of the 'Coupe de Finesse' (Saleva, 1986)


MAXIMUM WINGSPAN:

Gliding test of a 16-cell model - a combination of a 11-cell and 5-cell model (top right). This combination was suitable for skisailing, but not for flying. A further improvement of the glide angle was aimed at by an increase of the aspect ratio. A 13-cell model formed a front rosette during the flight, though, which changed into a back rosette in the breaking process, leading to a sharp descent when stalling.


ELLIPTICAL SHAPE:




An elliptical shape can prevent this kind of instability. Back then, creating an elliptical paraglide still came with with high costs (s. image "White Stone - Gleitschirm 9/92). Comparison of an old rectangular Skywing with a modern paraglide in Verbier (s. image above).


BIPLANE: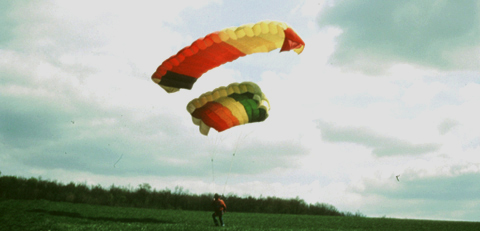 A big surface with high "Verwindungstabilität" stability can also be created by using a biplane. Image: A 9-cell model is attached with a 5-cell model, forming a 14-cell chute. This contruction turned out to be dangerous in slow flight, however, since the upper surface collapsed in the lee side vortex of the lower surface when using a higher angle of attack.