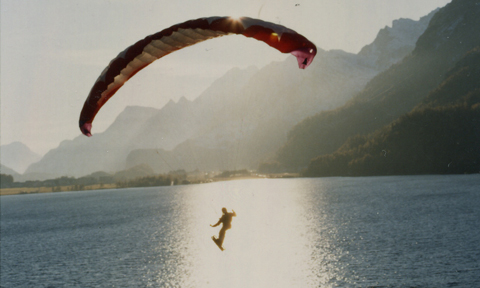 Ciba Geigy Journal 3/86

He flies through the air with the greatest of ease It's called para-ski-sailing, and Dieter Strasilla of Weil am Rhein near Basel takes to the air on his patented Sky Wing. A vital component of the buoyant appendage is the canopy release, consisting of a Ureol® foam core and metal parts held together without bolts or rivets by carbon and glass fibres laid up with Araldite® epoxy. The canopy release links a 40-square-metre sports parachute to a harness and can support loads of more than two metric tons. The release acts simultaneously as a pivot joint, steering rod, suspension line snap hook, and quick-release safety. It positions all controls at convenient chest level, enabling a skier to sail uphill and fly downhill.

At the Premiere Coupe de Finesse parachute jumping competitions held at Saleve last March, Andrea Kuhn won the drop rate contest using a Sky Wing canopy. Mr. Kuhn, who has achieved speeds in excess of 100 km/h (60 mph) on the level, is operating the first Swiss para-ski-sailing school in Sils Maria, in the Grisons. It's a summer sport too: waterskiers can perform similar up-and-down feats.



Dieter Strasilla at the by himself developed catapult start





Dieter...

und Andrea im Flug kopfüber